GLOBO EXPANDS THE FOOTPRINT OF ITS POPULAR OTT SERVICE GLOBOPLAY ON PHILIPS AND AOC TELEVISIONS VIA PARTNERSHIP WITH ZEASN
GLOBO EXPANDS THE FOOTPRINT OF ITS POPULAR OTT SERVICE GLOBOPLAY ON PHILIPS AND AOC TELEVISIONS VIA PARTNERSHIP WITH ZEASN
Brazil, November 2021
- ZEASN, the world's leading provider of OTT and smart TV solutions, today announced the partnership with Latin American media powerhouse Globo. As part of the deal, the biggest Brazilian streaming service Globoplay which is owned by Globo now is made available, with a native solution, on the latest Philips and AOC smart TV models. The agreement also includes the addition of a Globoplay hotkey button to the TV remote, providing immediate access to the diverse and popular programs hosted on the platform.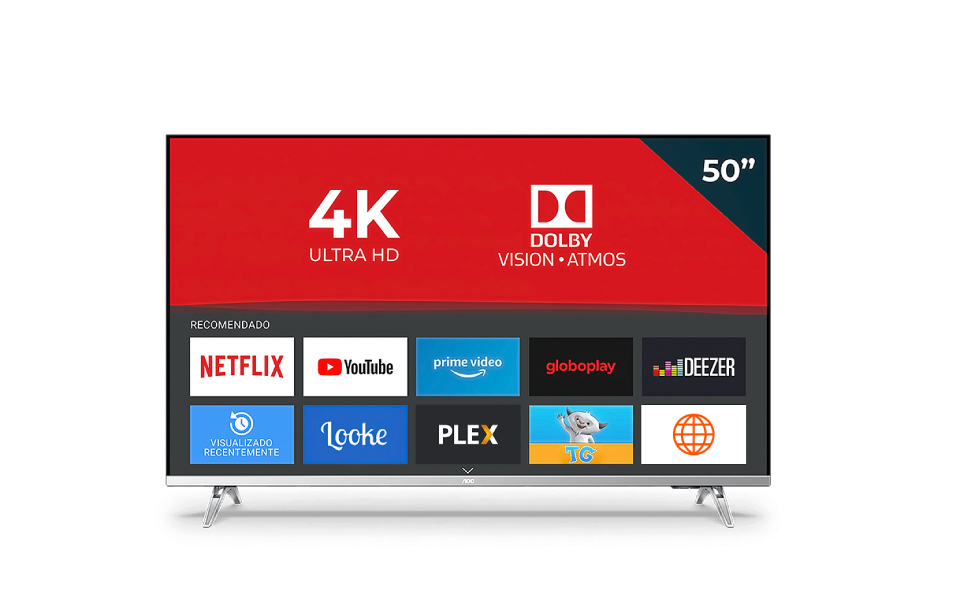 Grupo Globo is the largest mass media group of Latin America, founded in Rio de Janeiro, Brazil, in 1925 by Irineu Marinho. Its digital brands are among the largest in Brazil, recognized for their quality and audience leadership in their segments. G1, Globoesporte.com, Gshow, Premiere Play, Combate Play, Cartola, Globoplay, are examples of a diverse portfolio present in the lives of millions of people seeking information, entertainment, and culture.
Globoplay is the largest Brazilian streaming platform, offering free and exclusive content to subscribers, such as original productions, as well as internationally renowned movies and series, among exclusive titles that will only be shown online. Between series, documentaries and realities, produced by Estúdios Globo and by the Group's Journalism and Sport areas, in addition to partnerships with the independent markets, Globoplay doubled its production of Originals from 2020, reaching almost 40 in 2021, including the first Brazilian soap opera for streaming.
Through this association, Globoplay's native app was launched on the latest smart TVs from Philips & AOC. After this successful integration, ZEASN's Whale OS-powered TV models will have the Globoplay Native App integrated and pre-installed on the TV home screen, including a hotkey on the remote control, as agreed with Globo.
Fernando Ramos, Executive Director of Strategic Distribution Partnerships (PED) at Globo, said:
"This partnership with Zeasn is another very important step in Globo's strategy to expand the offer of its streaming platform, Globoplay, natively integrated in the new generation of Philips and AOC televisions and with Globoplay hotkey on the remote control, ensuring the delivery of the best experience for the users."
"ZEASN's Whale Eco strategy since its release in 2018 has been committed to uniting the world's top smart device brands and content providers to provide users with high-quality home entertainment services through Whale OS,"
said Jason He, Chief Executive Officer of ZEASN.
"The cooperation between ZEASN and Grupo Globo, Philips, and AOC is an important development of the Whale Eco strategy in Latin America. ZEASN will uphold the mission of 'Bring The World Home', unite our Whale Eco partners, and continue to provide users with remarkable service."
"We are extremely proud to offer Globoplay in our Philips and AOC Smart TVs."
said Eduardo Brunoro, Executive Director of TPV Brazil.
"Globo is an iconic Brazilian brand and a key player in delivering entertainment and news content to Brazilian homes. I'm sure that our consumers will be thrilled to be one button push away from all these content, and that this will be a successful partnership."
About Globoplay
Globoplay is the largest Brazilian streaming platform, offering free and exclusive content to subscribers. The service brings together several original content from Globo and from the independent audiovisual markets, renowned international films and series, including exclusive productions, which are only available online. The platform also has a complete offer with Globo's linear channels through Globoplay + live channels, which aggregates in one place, in addition to TV Globo, Multishow, GloboNews, Sportv 1, Sportv 2, Sportv 3, GNT, Viva, Gloob, Gloobinho, Off, Bis, Mais On Screen, Megapix, Universal TV, Studio Univeral, SYFY, Canal Brasil and Futura. All together, in the most complete and varied offer of content for the public to access at any time and from wherever they are, what is on air, what was aired and what will be aired.
About ZEASN
Beijing ZEASN Information Technology Co., Ltd. was founded in January 2011. As the world's leading provider of smart home solutions and services, more than 50 million global households (with more than 150 million users) are currently using smart TVs, set-top boxes, smart speakers, and other smart home entertainment devices powered by Whale cloud services.
Whale OS is an operating system with independent intellectual property rights that supports various popular smart home devices. Based on Whale Eco, it provides users with a wide range of global top and local essential entertainment apps or content, and provides innovative Internet services such as efficient customized development and intelligent voice for Whale Eco partners.
Whale Eco is ZEASN's efforts to build a smart home entertainment ecosystem that serves global users since 2018. The ecosystem takes Whale OS as the core, relying on professional and powerful Whale cloud services and smart devices, and unites content service partners, technical service providers, advertising service providers, and smart device manufacturers to provide global users with wonderful home entertainment products. Whale Eco's partners include Philips, Netflix, Novatek, TPV, TCL, Amazon, Google, etc. To find out more, please visit:
https://www.zeasn.com