November 2021, Beijing
- ZEASN, the world's leading provider of OTT and smart TV solutions, today officially released its brand new cloud-based, customer-oriented SaaS product: Whale Web Services (Whale WS). This comprehensive platform forms a business closed-loop connecting manufacturers, platform operators, content providers and end users by providing a complete set of software access, data management, content operations and various smart solutions. Whale Web Services can help ZEASN's worldwide customers realize the goal of self-service and efficiency improvement through standardizing the processes of product delivery and visualizing the relevant content and data.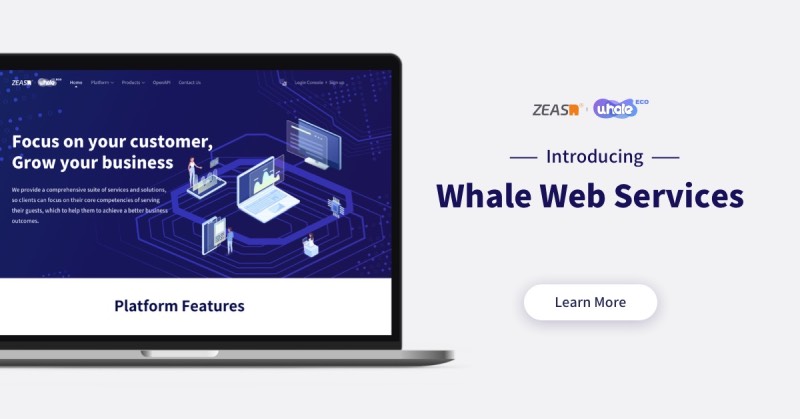 One Platform, Endless Possibilities
Focusing on the smart home industry, Whale WS provides customers with a number of industry-proven and flexible software services and solutions, including:
● Whale TV OS
● Whale OS Components (Launcher, App Store)
● Whale Speaker OS
● Whale AI Voice
● Whale Smart Projector OS
● Whale Smart Monitor OS
● Whale Photo
● Whale G Engine
● WhaleAds
● Content Recommendation Service (WhaleLive, WhaleTime, etc.)
7 Simple Steps to Create Your Product
Whale WS takes care of various stages of the product's life cycle, including device and application development, product testing, cloud services, operations management, data support, etc. Customers can download the product demo in advance on the platform, experience the testing process, and create their own products in 7 simple steps:
● Create Product
● Integration Testing
● Establish Cooperation
● Product Development
● Pilot Production
● Confirmation of Mass Production
● Mass Production
At the same time, the platform accurately defines each stage and status of the product life cycle, provides change and control management of various requirements throughout the whole process, helps customers improve the efficiency, and achieves timely delivery of products.
Visualization and Simplification
Whale WS provides relevant data of smart devices, digital products, and end users from a multi-dimensional perspective, providing customers with a systematic and thorough data display panel to help them track the product life cycle easily. In addition, corporate customers can also use the platform to manage devices, products, applications, certificates and to implement functions such as content recommendation and user center. Overall, Whale WS improves the convenience and flexibility of the product operations.
"We are so excited to finally launch our new all-in-one SaaS product. Whale WS provides our global customers with numerous industry-proven software services and solutions that are highly scalable, secure and cost effective."
Suriko Wei, Technical Director of Whale Web Services at ZEASN said,
"The Whale WS aims at becoming a bridge between ZEASN and our customers, as a new driving engine for our Whale Ecosystem, it will build a comprehensive open platform where technology, business and data are all in one place. The platform helps our Whale Eco partners to explore possibilities and empowers them with cost control and efficiency improvement tools, at the same time realizing the great mission of ZEASN - Bring the world home."
Learn more about Whale Web Services, please visit:
https://portal.zeasn.tv
About ZEASN
Beijing ZEASN Information Technology Co., Ltd. was founded in January 2011. As the world's leading provider of smart home solutions and services, more than 50 million global households (with more than 150 million users) are currently using smart TVs, set-top boxes, smart speakers, and other smart home entertainment devices powered by Whale cloud services.
Whale OS is an operating system with independent intellectual property rights that supports various popular smart home devices. Based on Whale Eco, it provides users with a wide range of global top and local essential entertainment apps or contents, and provides innovative Internet services such as efficient customized development and intelligent voice for Whale Eco partners.
Whale Eco is ZEASN's efforts to build a smart home entertainment ecosystem that serves global users since 2018. The ecosystem takes Whale OS as the core, relying on professional and powerful Whale cloud services and smart devices, and unites content service partners, technical service providers, advertising service providers, and smart device manufacturers to provide global users with wonderful home entertainment products. Whale Eco's partners include Philips, Netflix, Novatek, TPV, TCL, Amazon, Google, etc. To find out more, please visit:
https://www.zeasn.com