ZEASN Introduces New Smart TV Solution Whale OS Turnkey 2.0 Based on Novatek Chipsets
ZEASN INTRODUCES NEW SMART TV SOLUTION WHALE OS TURNKEY 2.0 BASED ON NOVATEK CHIPSETS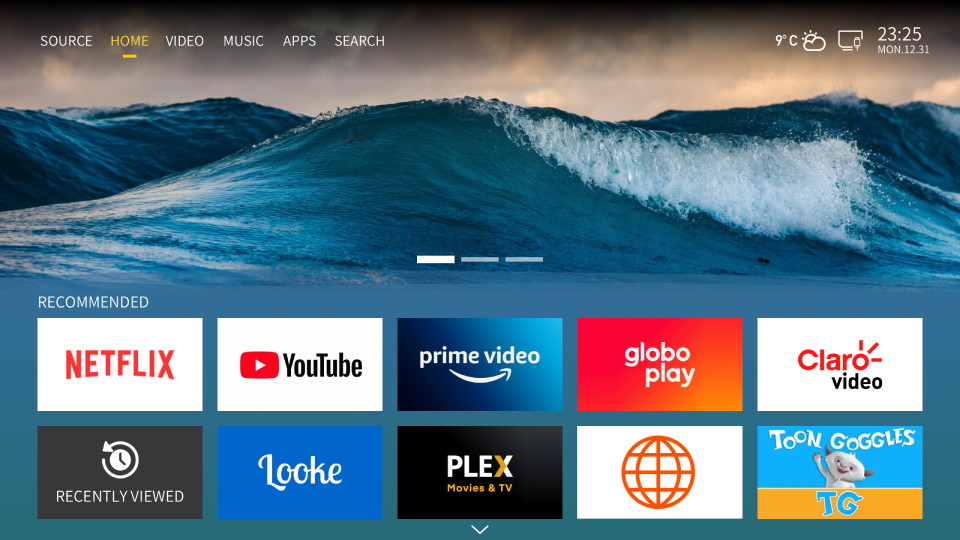 Taipei, January 2022
- ZEASN, the world's leading provider of OTT and smart TV solutions, today officially released a brand new smart TV solution: Whale OS Turnkey 2.0. Built on ZEASN's Whale OS, the new turnkey solution offers highly customized UI under Whale OS UI Guideline, the most requested advanced smart TV features, and also brings the perfect native app experience to TV viewers, including top-tier native streaming apps: Netflix, YouTube, Prime Video, Globoplay, etc. At present, Whale OS Turnkey 2.0 has provided industry-leading turnkey services for Linux-based smart TVs on Novatek chipsets.
Whale OS is an operating system with independent intellectual property rights that supports various popular smart home devices. As the core of Whale Ecosystem and the leading independent third-party OS, Whale OS has in-depth cooperation with top chip design companies to completely solve the problems of codec performance and security from the bottom of the system, creating a high degree of flexibility, scalability, and fully customizable turnkey solution. Moreover, Whale OS has also completed all the integration work with the world's top streaming apps such as Netflix, YouTube, Prime Video, allowing OEMs to achieve rapid mass production, to provide brand customers with differentiated new products, and quickly enhance their brand images.
In product design, Whale OS has always been user-centric. It supports hybrid TV technology and global TV broadcast standards to meet worldwide user needs, and also integrates a state-of-the-art Electronic Programming Guide (EPG). In terms of entertainment, Whale OS can offer smooth performance and efficiency. It not only integrates a full catalog of must-have global and regional streaming apps, but also has a built-in intelligent voice service: Whale AI Voice (with certified Amazon Alexa Skills - Whale Video), which supports One-click voice search for videos, movies, music, apps or weather forecast. Meanwhile, through the content recommendation engine based on the analysis of big data, viewers can easily find their favorite content anytime.
"We are very happy to work together with Netflix and ZEASN to collaborate on the Scaling Program of the Netflix native app and provide the Linux-based turnkey solution to our customers. Through the high-quality SoCs of Novatek, a wide variety of premium content from Netflix, and the industry-proven platform of ZEASN, we can help our customers quickly import their products and pass the Netflix certification, while ensuring our consumers to enjoy the incredible streaming service in any time",
says Daniel Ping, Assistant Vice President of VISG/iHOME Div., Novatek.
"We are very proud to launch Whale OS Turnkey 2.0 that supports UI customization under Whale OS UI Guideline. In 2020, our Turnkey 1.0 solution successfully achieved mass production through cooperation with two of the world's top smart TV manufacturers, TCL MOKA and TPV."
Raymond Chung, Chief Technology Officer (CTO) of ZEASN said:
"Whale OS Turnkey 2.0 based on Novatek chipsets will provide more TV manufacturers and brand customers with perfect solutions to meet their needs, so they can truly differentiate their offerings in the market. Through the integration of the native world-class streaming apps, Whale OS will bring unparalleled experiences to our consumers across the world."
About NOVATEK
Novatek Microelectronics Corp., established in 1997 with its headquarters in Hsinchu Science Park, is the world's primary display driver IC supplier for TFT LCD displays. It is ranked as the world's 8th largest fabless IC design house with total sales revenue of US dollar 15 billion in 2020. Novatek (TWSE: 3034) is a public company on the Taiwan Stock Exchange mainboard. To learn more about Novatek, please visit
www.novatek.com.tw
About ZEASN
Beijing ZEASN Information Technology Co., Ltd. was founded in January 2011. As the world's leading provider of smart home solutions and services, more than 50 million global households (with more than 150 million users) are currently using smart TVs, set-top boxes, smart speakers, and other smart home entertainment devices powered by Whale cloud services.
Whale OS is an operating system with independent intellectual property rights that supports various popular smart home devices. Based on Whale Eco, it provides users with a wide range of global top and local essential entertainment apps or content, and provides innovative Internet services such as efficient customized development and intelligent voice for Whale Eco partners.
Whale Eco is ZEASN's efforts to build a smart home entertainment ecosystem that serves global users since 2018. The ecosystem takes Whale OS as the core, relying on professional and powerful Whale cloud services and smart devices, and unites content service partners, technical service providers, advertising service providers, and smart device manufacturers to provide global users with wonderful home entertainment products. Whale Eco's partners include Philips, Netflix, Novatek, TPV, TCL, Amazon, Google, etc. To find out more, please visit:
https://www.zeasn.com/